Baroque Pontremoli – special Villa Dosi
Baroque Pontremoli – special Villa Dosi
Baroque Pontremoli – special villa dosi: an itinerary to discover Pontremoli old town and Villa Dosi Delfini, this tour is available with a minimum of 8 participants from 1st April to 30th October every Saturday. Booking is required.  
Weddings & events
Villa Dosi Delfini was thought of as a place for social events, parties and balls. The Great hall and all the adjoining rooms are the ideal location for your wedding or for any event inside the mansion or outside in the big garden. A large parking is available in the Villa: there is also the […]
Villa Dosi Delfini, Pontremoli, Tuscany
Welcome to Villa Dosi Delfini, the masterpiece of Pontremoli'sBaroque period, finally open to the public and visitable all year!
We are waiting for you to discover, with our guides, the secrets of this extraordinary historic mansion where art, architecture, landscape and curiosities come together.
Villa Dosi Delfini is visitable with regular weekly tours or with scheduled extraordinary openings during the year. It is also possible to book private tours for tailored or group tours.
Moreover, the building is available for events, banquets and weddings.
CALENDAR: OPENINGS 2023 Here the calendar with guided tours and openings 2023 of Villa Dosi Delfini. In each "orange" a
Baroque Pontremoli - special villa dosi: an itinerary to discover Pontremoli old town and Villa Dosi Delfini, this tour is
clicca sulla mappa / clic on map
Salone
Il salone di rappresentanza, con gli affreschi realizzati dai pittori Francesco Natali e Alessandro Gherardini, è il vero cuore artistico di Villa Dosi Delfini.
Sala del Biliardo
In questa sala si conservano i dipinti di maggior pregio della collezione di famiglia, oltre ai ritratti di Giuseppe Antonio Dosi e di alcuni beati appartenenti alla famiglia.
Salotto Rosso
Nel salottino la famiglia si riuniva per dilettarsi suonando e ascoltando il pregevole forte-piano; in questo ambiente sono presenti lussuosi arredi e dipinti, tra i quali i ritratti dei duchi Farnese di Parma che concessero alla famiglia il titolo di Marchesi nel 1733.
Sala dei ritratti
Alle pareti di questa sala un vero e proprio albero genealogico dipinto della famiglia, con i ritratti dei membri più importanti, tra cui Carlo Dosi e il fratello Francesco, cui si deve il progetto della Villa.
Cappella
Una piccola cappella consacrata per le funzioni private. Tra le decorazioni, una serie di raffinatissime stampe settecentesche, ancora da studiare, e un dipinto raffigurante San Giuseppe morente.
La Biblioteca
La ricca biblioteca, suddivisa su più sale del piano nobile e del piano superiore, conta migliaia di volumi, tra manuali, prime edizioni, antichi documenti, oltre al prezioso archivio di famiglia.
Sala da pranzo
La sala da pranzo è in perfetta prospettiva con il salone, il viale, il ponte con la cappelletta, e piccolo cortile retrostante, animato da una statua del dio Nettuno all'interno di una grotta.
Cortile
Il cortile posteriore fornisce luce alle stanze del fronte nord; al centro del muro di fondo è ricavata una elegante grotta artificiale che ospita la statua del dio Nettuno accompagnato da due delfini.
Salotto ottocentesco
Nel salottino ottocentesco gli affreschi del Natali furono ricoperti con decorazioni di finta carta da parati. Alle pareti si trovano numerosi ritratti d'epoca.
Salotto novecentesco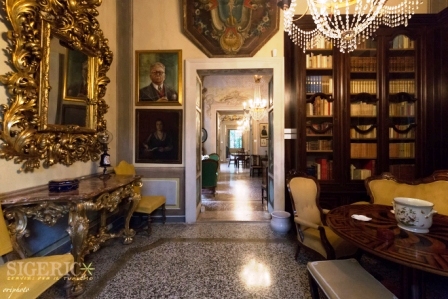 In questo ambiente sono esposti alcuni ritratti degli antenati di famiglia, come Gian Carlo Dosi Delfini e la moglie. Un grande albero genealogico ricostruisce la storia dei Dosi dal sec. XV ad oggi.
Camera da letto 1
Le stanze da letto sono decorate con prestigiosi quadri di scuola napoletana; in questa camera si trovano alcune splendide porte dipinte da Antonio Contestabili.
Camera da letto 2
La seconda camera da letto, rivolta a sud ovest, è arredata con mobili e quadri dei secoli XVIII- XX e impreziosita da due grandi dipinti con scene di battaglia
ingresso
All'ingresso del piano nobile il visitatore è accolto dai due busti in marmo dei fratelli Carlo e Francesco Dosi, detti "i parrucconi", artefici del progetto e della decorazione di Villa Dosi.
La scala a chiocciola
I due livelli della casa sono ancora oggi collegati internamente da un'unica scala a chiocciola in pietra, affrescata con vedute della Villa e del podere dei Chiosi