Villa Dosi Delfini is visitable all year long with guided tours , led by qualified tourist guides from "Sigeric -servizi per il turismo".

There are various ways with which you can visit Villa Dosi Delfini.
---
 Regular tours: Baroque of Pontremoli
The "Baroque of Pontremoli" guided tour takes place at regular intervals every Tuesday and Saturday from April to October, with a minimum of 8 participants. Booking is needed. After a brief introduction about the history of Pontremoli, the tour brings us to to discover some of the town's symbols as the cathedral of Santa Maria Assunta, masterpiece of the Baroque period, and the Campanone.Tthe tour continues by showing us some of the most characteristic and curious corners of the old town. The second part of the tour is dedicated to Villa Dosi, reachable with a short and pleasant walk in the Chiosi small farm.
Every Saturday from June to October:
Meeting: at 10 am in front of the Sigeric Point, Via Ricci Armani 10, Pontremoli.
Tour ends approx. 12.30 pm.
Price per person (min 8 people): 15 euro adults, 8 euro kids under 12 (includes guided walk of the historic centre, entry fee to the Villa and guided visit)
Reservation is needed.
Info and reservations: +39 33188866241 / e-mail: info@sigeric.it
---
 Extraordinary openings
During every season of the year, we plan extraordinary openings and guided tours, which are possible to book also individually.
The guided tour lasts approximately an hour and goes through all the external and internal spaces that are actually open to public: the yard, the gardens, the hall and the rooms of the main floor.
Villa Dosi's extraordinary openings guided tour (1h approx.)
Price: 8 euro adults, 5 euro kids (6-12 year old),
Evening tours: 10 euro adults and 6 euro kids (6-12 year old)
Reservation is needed. (Places are limited, we will not accept not listed participants.)
Info and reservations: +39 33188866241 / e-mail info@sigeric.it
Find the next guided tour in our calendar >> CLICK HERE
---
 Tours on request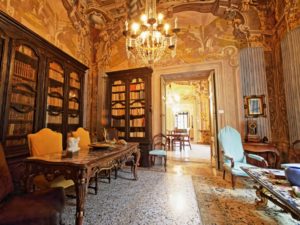 For organised groups, cooperations, travel agencies and classes, it is possibile to make a reservation by directly contacting the administrative office of Sigeric-servizi per il turismo. In addition, it is possible to plan reserved visits for private clients, (booking is always required).
Private guided tours for groups of a minimum of 20 people:
Adults: 8 euro
Reduced price: (6-12 year old) 5 euro
Free: kids (0-6 year old)
Classes: 6 euro per student, free for teachers., with a minimum of 20 students
For private or individual visits there are different costs. There is also the possibility to extend the guided tour to the historic centre of Pontremoli and to the Piagnaro Castle. Guided tour in English or in French are also available on request.
Info and reservations: +39 33188866241 / e-mail info@sigeric.it
---
 Other services, weddings and events